A shop, a home, a museum, a studio, these are all components of Brian Greer's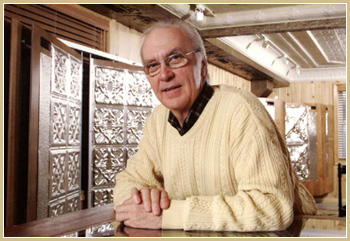 house in the village of Mannheim, 125 kilometres west of Toronto, Canada. Brian Greer started his career as a tinsmith as early as 1962 apprenticing with Earl Waddell from St. Marys, Ontario, who had been in the trade for fifty years. For over forty years, Brian has worked with tin, copper, brass, stainless steel and other metals.
Brian has always had a fascination with the past. In his shop, which doubles as a museum, shelves and alls are lined with turn of the century tools and household items. Here in neat rows, is everything from wall mounted candle holders to tin lamps with holes poked through the sides in beautiful patters through which light escapes when the lamp is on. Out in the front of his home is a restored antique truck.
Brian is pleased when others enjoy and appreciate the past as much as he does. He appreciates the opportunity to pull history back into the present day through his business. Brian has always created his panels using tin. The tin material offers many benefits in comparison to plastics and other materials, Our Tin Panels are made with the same tin material used over a hundred years ago. In most cases tin panels outlast the hundred year old buildings that they are in. They are more durable over longer periods of time and are historically accurate.
Our panels have been installed in homes, restaurants, night clubs, bars, offices, stores, schools, churches and more. In addition, any of our panels can be perforated to help create perfect room acoustics.